50/50 Winning Numbers
SUPPORT THE SMILEZONE 50/50 DRAW PROGRAM TO WIN!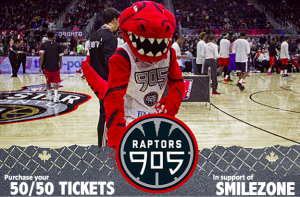 A 50/50 draw is a lottery for which 50% of the ticket revenue brought in goes to the winning ticket holder, and 50% goes to the benefiting charity. Smilezone Foundation is running 50/50 draws at select Raptors 905 home games at Mississauga's Hersey Centre in 2018. By participating in the 50/50 program, fans will be contributing charitable proceeds to Smilezone transformations across Ontario hospitals and children's centres, helping to put smiles on kids' faces when they are most needed!
Please play responsibly.
Problem Gambling Helpline: 1-888-230-3505
www.problemgamblinghelpline.ca
AGCO Lottery License #9676
Click here to read full rules of play
50/50 Winning Numbers
Saturday, March 10, 2018 
Ticket #: A-281156
Prize Amount: $2,045
Amount Raised: $4,090
Saturday, March 24, 2018 
Ticket #: A-423688
Prize Amount: $2,332
Amount Raised: $4,664
Tuesday, April 10, 2018 
Ticket #: A-126079
Prize Amount: $1,527
Amount Raised: $3,054
Back
Sign Up for our Newsletter