ErinoakKids Centre for Treatment and Development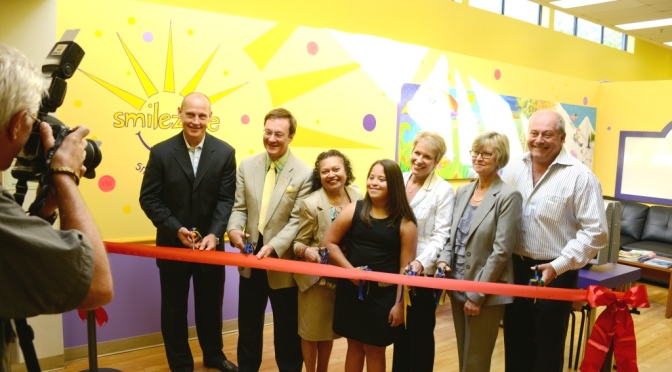 The Foundation's first FIVE SMILEZONES were installed in August 2013 at the ErinoakKids Centre for Treatment and Development located in Mississauga, Ontario.
The five Smilezones were designed specifically for kids, to let them have fun and to make them feel comfortable within their medical environments. Smilezone volunteers, in collaboration with ErinoakKids' administrative leadership, undertook the task of reconstructing existing space at both sites, equipping the five Smilezones with features such as:
iPad stations
TVs
PS3s
Kidzpace screens (interactive touch screens)
Individual cubbies
Beautiful murals
Bright, colourful environment radiating positivity!
"This is an instance in which words are completely inadequate to express our gratitude for the tremendous effort and expense that went into creating stunning Smilezone's at our North Sheridan and South Millway sites. This work is just transformative! I just don't know how to thank you, except to say we are all walking a little prouder and lighter in our step at ErinoakKids today, and it is because of both of you and the other fine people on your team who came together to make this happen."
- Bridget Fewtrell, President and CEO, ErinoakKids Centre for Treatment and Development
The ErinoakKids Centre is Ontario's largest children's treatment centre, serving more than 13,500 children and youth annually, who have physical and developmental disabilities, autism and communication disorders, as well as children who are deaf and blind. Their mission is to help their clients achieve optimal levels of independence, learning, health and well-being through a comprehensive array of assessments, medical therapy and support services that help children and their families.
Sign Up for our Newsletter