ErinoakKids Centre for Treatment & Development – Brampton, ON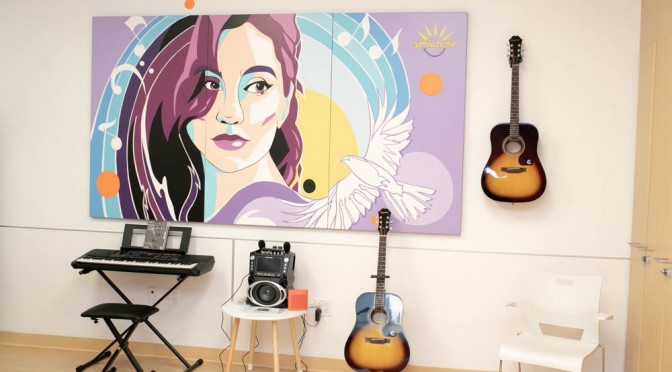 Over the weekend of August 24th-26th, the Smilezone team installed 3 NEW SMILEZONES at ErinoakKids Treatment Centre in Brampton, ON.
As part of Smilezone Foundation's mission, ErinoakKids Centre for Treatment & Development now boasts a refreshed and welcoming main reception area featuring interactive projection flooring, a newly painted Respite Wing displaying bright murals, and a music-themed Youth Room. The treatment centre's new Smilezones create relaxed and fun atmospheres designed to make children feel comfortable and confident during therapy while complementing the extraordinary care delivered by the Centre's dedicated inter-professional teams.
The Youth Room was transformed into a music room for teens, inspired by Smilezone Ambassador Alessia Cara and lyrics from her hit song "Scars to Your Beautiful". Featuring stunning murals, musical instruments, karaoke machine, hand-painted lyrics, new furniture, and bean bag chairs, this Smilezone will inspire children and youth while they receive therapy and treatment in Brampton for years to come. Thank you to Alessia Cara for supporting this Smilezone and bringing smiles to kids' faces! 
"Smilezone Foundation is honoured to brighten the experience of children receiving services at ErinoakKids," said Adam Graves, Co-Founder of Smilezone Foundation and two-time Stanley Cup champion. "We are grateful for Alessia's support throughout this project. She is an inspiration to the children and families at ErinoakKids, and the new music-themed Smilezone inspired by her will give kids a reason to smile during their therapy and treatment sessions."
"Since the installation of the very first Smilezone at ErinoakKids in August 2013, the impact on our clients and families has been remarkable," says Bridget Fewtrell, President and CEO, ErinoakKids. "Each day, we see the faces of children and youth light up at the sight of Smilezone's playful and transformed spaces. These welcoming environments help make the hard work of therapy and treatment sessions easier, and help children feel settled and secure while in our care."
"Smilezone Foundation aims to give children the opportunity to have joyful experiences even during challenging times, and we are very proud of the long-term improvements all families and staff can now enjoy at ErinoakKids," said Randy Lennox, Director, Smilezone Foundation, and President, Bell Media. "Alessia Cara brought huge smiles to so many faces at yesterday's grand opening, and we send our most sincere thanks to her for her time and dedication to Smilezone."
ErinoakKids Centre for Treatment & Development is the largest children's treatment centre in Ontario, providing therapy and medical services to over 17,000 children with special needs and their families in Peel, Halton and Dufferin County every year.
Sign Up for our Newsletter