George Jeffrey Children's Centre – Thunder Bay, ON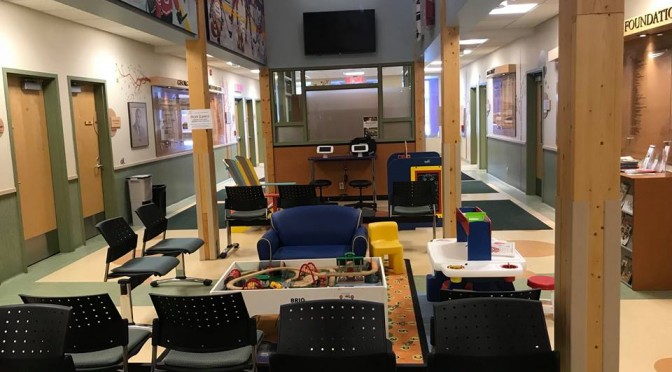 Over the weekend of November 10th-12th, the Smilezone team transformed 7 NEW SMILEZONES at George Jeffrey Children's Centre in Thunder Bay, ON!
The newly transformed Smilezones at GJCC include the main entrance vestibule, the reception desk and quiet room, two waiting rooms, the seating and mobility assessment room, the teen activity room, and a children's clinical treatment room. Features include:
Bright, kid-friendly murals with various themes including hockey, nature, and local Thunder Bay landmarks
Fresh paint provided exclusively by Sherwin Williams
Reconfigured reception desk with newly build quiet area attached for parents and infants
Accessible iPad stations with universal chargers
Flat Screen TV
Autographed hockey jerseys from the Staal brothers
Custom cabinetry, accessible banquette seating, accessible height-adjustable meeting table, bookcase, storage units, and collapsible hooks
Projector system to support therapeutic sessions
Magnetic whiteboards and pamphlet holders
Fun sensory items including bean bag chairs, tactile tables and spinners, and more!
This transformation was made possible with generous support from the Staal Family Foundation. The 2017 Staal Open raised over $271,000 to support three children's charities in the Thunder Bay Community, including Smilezone Foundation. A big thank you to the Staal Family for supporting children with special needs and their families, and helping us bring thousands of smiles to the Thunder Bay Community for years to come!
George Jeffrey Children's Centre (GJCC) is a paediatric outpatient health facility located in Thunder Bay, Ontario. GJCC has been meeting the communication, developmental, and physical needs of children for over 60 years; providing services to infants, children, and adolescents aged birth to 19 years. The Centre is one of twenty Children's Treatment Centres in the province of Ontario, and is an active member of the Ontario Association of Children's Rehabilitation Services (OACRS).
Sign Up for our Newsletter