Headwaters Health Care Centre – Orangeville, ON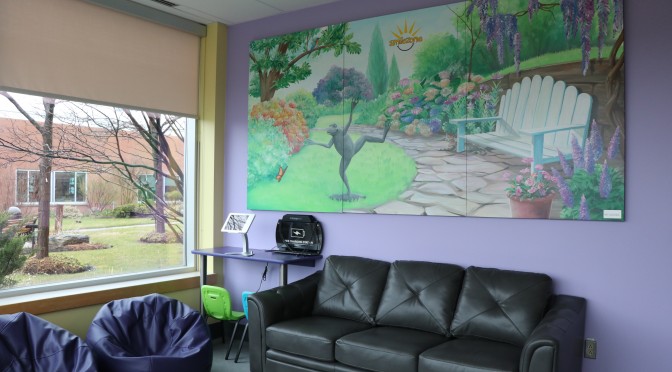 In the weekend of April 26th – 28th the Smilezone team transformed THREE new Smilezones at Headwaters Health Care Centre in Orangeville, ON! The revamped spaces are;
Family Room – D Wing
Family Room – F Wing
Paediatric Hallway
Specific features in the Smilezone transformation include:
Accessible iPad Stations
Sensory Tables
Bean bag chairs
Universal chargers
Xbox and games
Apple TVs
Fresh Paint
Nature-themed murals
Wipeable couches
Custom storage
Children's table and chairs
Round dining table and chairs
Custom, hand-painted pillars
These three new Smilezones were generously supported by Joan Waetchers who, because of her kind heart and 13 year+ dedication to and connection to Headwaters wanted the children, families and staff to feel warm, welcoming and comfortable during their visit. The iPads, TV's and "I-Spy" murals provide endless entertainment, imaginative exploration and laughs for the children while the new sofas and bean bag chairs offer a comfortable place to rest, wait and snuggle up! Thank you to Joan for making this all possible.
About Headwaters Health Care Centre:
Headwaters Health Care Centre is an acute 
and complex continuing care facility offering both inpatient and outpatient 
services as well as an Emergency Department to the Orangeville area. Headwaters offers a vast array of programs that serve not only children but youth and adults as well through paediatric care, physiotherapy, speech-language pathology, critical care, complex continuing care, emergency services and so much more. 
Sign Up for our Newsletter