Markham-Stouffville Hospital – Markham, ON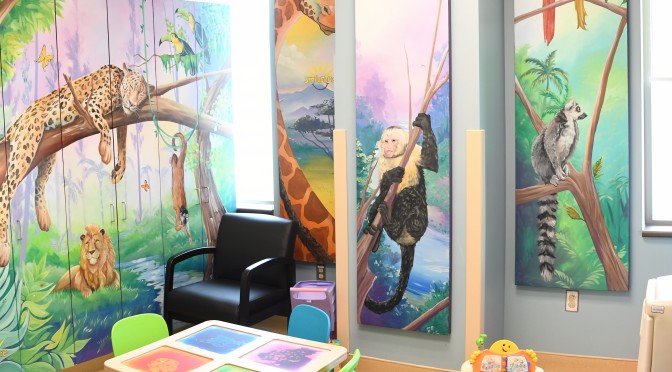 Over June 28th – 30th, the Smilezone team transformed 9 NEW SMILEZONES at Markham-Stouffville Hospital in Markham, ON! The new Smilezones are:
Inpatient Paediatrics Playroom
Treatment Rooms (x3)
Day Surgery Waiting Room
Outpatient Paediatrics Waiting Room
Child Neurodevelopment Assessment Room
Outpatient Juvenile Diabetes Clinic Rooms (x2)
Specific features in the Smilezone transformation include:
Bright, kid-friendly and nature-themed murals
Weighted blankets
Fresh Paint provided by Sherwin Williams
Bean bag chairs
Sensory tables
Wheelchair accessible iPad stations
GestureTek system
Bench seating
Universal charging stations
Custom storage
and more!
A very special thank you to the Michael Mutcheson Memorial Trust for generously supporting this incredible project through the Mutcheson Golf Tournament!
About Markham-Stouffville Hospital:
Markham Stouffville Hospital (MSH) is one of Ontario's leading community hospitals.  Across its two sites (Markham and Uxbridge) and the Reactivation Care Centre (RCC), the hospital has 329 beds and provides high quality, patient-centred care to more than 402,000 patients each year. It offers diagnostic and emergency services and delivers clinical programs in acute care medicine and surgery, addictions and mental health, and childbirth and children's services.
Sign Up for our Newsletter