Northeast Cancer Centre- Health Sciences North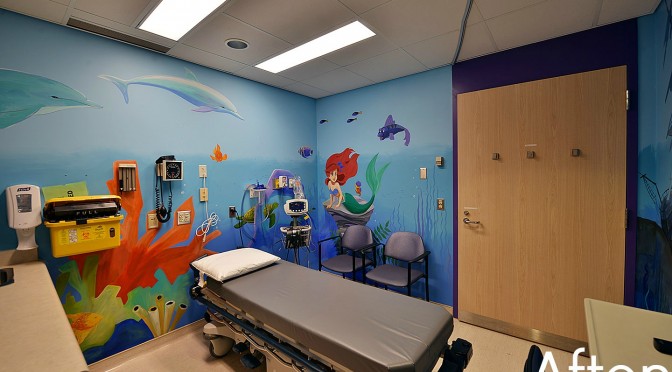 The Foundation installed FIVE SMILEZONES in November 2014, at Northeast Cancer Centre-Health Sciences North, Sudbury, ON.
The five Smilezones were installed within the centre's Pediatric Oncology Unit, refreshing the space to create a bright, cheerful atmosphere for children to enjoy! The clinic's entrance and hallway, waiting room, and treatment rooms were all transformed, including features such as:
iPad stations
Beautiful murals
New cabinetry
Framed celebrity hockey jerseys
A fun, colourful space radiating positivity!
The new Smilezones were also largely supported by The Sudbury Wolves Hockey Club and its Owners. They generously donated their jerseys for display in the Smilezones, attended the Opening ceremony, and Mark Burgess, owner of the Sudbury Wolves, gave a $10, 000 donation to the Smilezone Foundation on behalf of the Burgess and Edwards Families.
The Pediatric Oncology Unit at the Northeast Cancer Centre of Health Sciences North/Horizon Santé-Nord provides chemotherapy and post-treatment follow-up for children with cancer up to the age of 18.  There have been over 1000 patient visits to the Unit, and 30 admissions to hospital. Once a child has completed a course of treatment, the Pediatric Oncology Unit provides five years of follow-up care.
Photos courtesy of Westmount Photography < http://westmountphotography.com/>
Sign Up for our Newsletter