Southlake Regional Health Centre – Newmarket, ON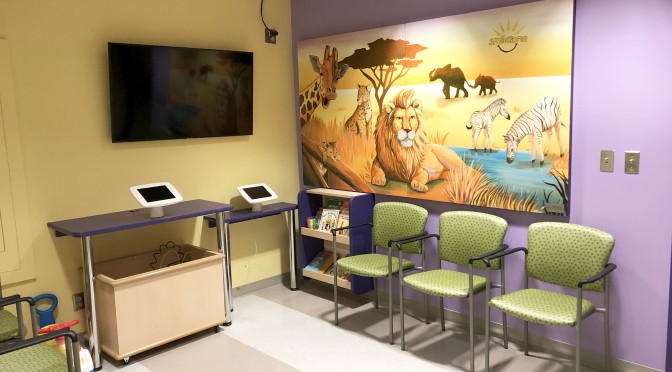 Over the weekend of July 6th-8th, 2018, the Smilezone team transformed 10 NEW SMILEZONES at Southlake Regional Health Centre in Newmarket, ON!
The new Smilezones at SRHC are located in the Paediatric Operating Room (OR) Clinic, Medical Arts Building (MAB) Day Surgery Clinic, and the Child and Adolescent Mental Health Unit.
Specific features include:
Fresh paint, supplied exclusively by Sherwin Williams
Bright, kid-friendly murals
New electronics, such as TV's and iPad Stations
Expanded custom storage
Hand painted inspirational quotes, selected by patients & families
Custom light coverings
And much more!
More than 1,200 children and youth will benefit from the hospital's newly refurbished Smilezones, as well as their siblings, parents, and other family members. The Smilezone team worked closely with the clinical staff at the hospital to ensure the designs were a perfect fit for their patients. "Our staff go above and beyond every day to provide the best possible care to everyone who walks through our doors," said Susan Mullin, President & CEO of Southlake Foundation. "That means making sure that their overall experience is a positive one. The areas are brighter and more welcoming, not only for patients and families but for our staff, physicians and volunteers as well. They'll help our staff to continue to do the amazing work they've been doing, providing a soothing environment for our younger patients to get through a stressful time a little easier."
The three new Smilezones were generously supported by members from the Bachly family, with strong ties to Southlake Regional Health Centre and the Newmarket community. "When I walked in and saw the new space for the first time, it brought tears to my eyes," said Csaba Szotyori, Manager of Surgical Suites at Southlake Regional Health Centre. "The difference is incredible, and these Smilezones will make the children who come through so much more comfortable."
About Southlake Regional Health Centre Foundation
Since the inception of Southlake Foundation in 1980, more than $100 million dollars has been raised in support of Southlake Regional Health Centre. Working with members of the community, hundreds of volunteers, the Southlake Family and our incredible donors, Southlake Foundation will continue to support life-saving medical equipment, infrastructure upgrades and expansions, patient programs and staff education, all for the goal of transforming the lives of patients and families, close to home. For more information visit: www.southlakefoundation.ca
Sign Up for our Newsletter