Thunder Bay Regional Health Sciences Centre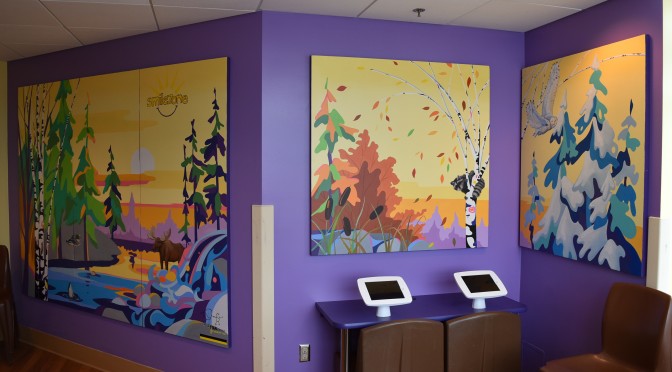 Over the weekend of November 10th-12th the Smilezone team transformed 3 NEW SMILEZONES at Thunder Bay Regional Health Sciences Centre!
The newly transformed Smilezones at TBRHSC are featured in the Children and Adolescent Mental Health Unit (CAMHU), including the classroom, the lounge and hallway areas. Specific features include:
Bright, welcoming murals featuring nature and Thunder Bay landmark themes
Hand-painted inspirational quotes selected by CAMHU patients
Fresh paint provided by Sherwin Williams
Flat-screen TV's and X-box One Gaming System
iPad stations
Custom Cabinetry, storage units, bookcase, magnetic whiteboards, and tactile tables
Updated vinyl basing & rolling blinds
… and more!
This transformation was made possible with generous support from Bell Let's Talk and the Staal Family Foundation. Thank you for supporting children and adolescent mental health, and bringing thousands of smiles to the Thunder Bay Community!
The Child and Adolescent Mental Health Unit at Thunder Bay Regional Health Sciences Centre is an eight-bed unit designed to meet the needs of youth with mental health issues that require emergency care. The Unit provides a safe and therapeutic environment for youth, offering an assessment, stabilization, and brief treatment. Admissions to the unit are through the Emergency Department at the Health Sciences Centre or a regional hospital for those living outside of Thunder Bay. Inpatient services are delivered by a multi-discipline team which includes physicians, psychological associates, social workers, nurses, and child and youth workers. This team works with youth to help stabilize behaviours, and improve coping and problem solving skills.
Sign Up for our Newsletter