Trillium Health Partners Family Care Centre – Mississauga, ON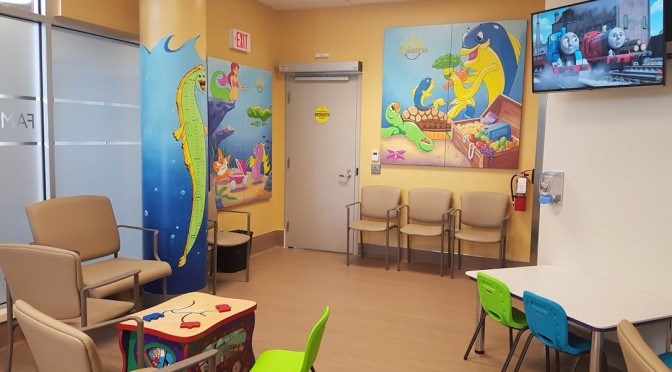 Over the weekend of October 4th-6th, 2018, the Smilezone team transformed 1 NEW SMILEZONE at Trillium Health Partners' Family Care Centre in Mississauga, ON! The new Smilezone at THP is located in the Family Care Centre's Waiting Room.
Specific features include:
Fresh paint
Bright, kid-friendly murals with under-the-sea theme
Kids Table and chairs
Accessible iPad Stations
GestureTek Interactive Floor Projector
Handpainted murals on columns
And more!
More than 9,300 children and youth will benefit from THP's newly refurbished Smilezones, as well as their siblings, parents, and other family members. The Family Care Centre at THP recently moved into a new space to serve patients better, with the following Clinics relocated to one space: Neonatal Clinic, Diabetes (Clinic and Consult), Pregnancy/Fetal Consult, Paeds Consult, Post Natal Clinic, Staple Removal, Neurology Clinic, Asthma Consult Clinic, Breast-Feeding Clinic, Rhogam Clinic, Synagis Clinic, ED-Follow Up, Kids Klinic, Jaundice Clinic and Children's Procedure Clinic (CPC).
About Trillium Health Partners
Trillium Health Partners is a leading hospital with an outstanding record of performance, fiscal responsibility and quality patient care. The hospital encompasses three main sites – Credit Valley Hospital, Mississauga Hospital, and Queensway Health Centre – offering the full range of acute care hospital services, as well as a variety of community-based, specialized programs. Our intention is to achieve the highest quality of care that is easily accessible for our community, at the lowest cost. We are committed to creating an exceptional experience for everyone who walks through our doors.
We envision a new kind of health care for a healthier community – an inter-connected system of care that is organized around the patient, both inside the hospital and beyond its walls. Through partnership, working in a coordinated way across the system, we can meet the needs of our patients and continue to provide outstanding care.
Sign Up for our Newsletter