Our Story
The idea of Smilezone started when Adam Graves and Scott Bachly were approached to make a financial contribution to the construction of a local hospital. The request made Adam and Scott realize they wanted to make a difference, not only in their community, but in communities across the country. As fathers themselves, Adam and Scott wanted to do something that would help children facing challenges as they have witnessed the obstacles facing families with sick children. They wanted to give kids a place to experience true reprieve from the day-to-day battles they face; a place, quite simply, that would put a smile on a child's face.
This determination led to the creation of the Smilezone Foundation. The idea behind the foundation is simple: transform spaces in health care settings into an oasis for kids to give them the opportunity to enjoy being a kid, and more importantly, an opportunity to smile! Visiting a Smilezone is something that a child in treatment can look forward to, and it can ease the anxiety of being in a hospital or treatment facility, which can be frightening.
The Foundation is governed by a group of successful professionals on the Board of Directors that share the vision to make a difference. As a group, they are strongly committed to make a real impact in communities throughout the country.
Fun is at the heart of Smilezone. Our founders, donors and supports all recognize that kids deserve fun, and that a smile makes a hard day easier for children and their families.
"We shall never know all the good that a simple smile can do"
– Mother Teresa
Back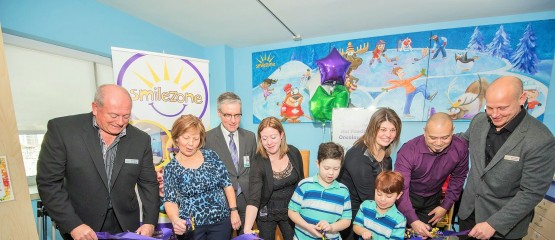 Smilezone Foundation is excited to announce the creation of FOUR SMILEZONES in the Paediatric Oncology clinic at Scarborough's Rouge… Read More
View All