Clarky's Kids, Grand River Hospital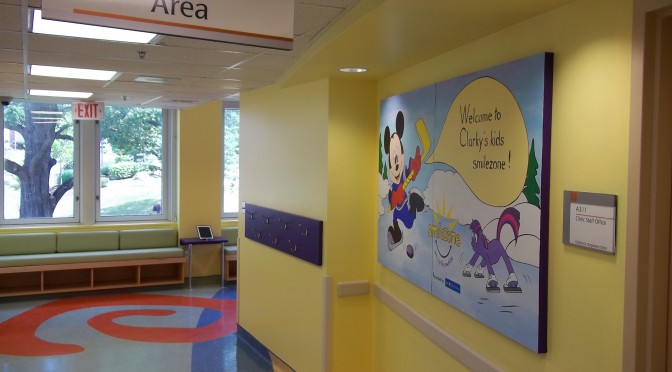 TWO SMILEZONES were installed in June, 2014 at the Grand River Hospital's POGO (Pediatric Oncology Group of Ontario) Satellite Center in Kitchener, Ontario. The Foundation partnered with David Clarkson and his organization, Clarky's Kids, to update and refresh the clinic.
The installation at Grand River was designed with hospital staff, David Clarkson and the Smilezone team to transform the existing clinic into a bright, cheerful place.
The transformation included:
Individual television stations for private viewing
iPad stations
Toy areas
Bright and colourful murals with motivational sayings and images of David Clarkson playing hockey
"Cancer can have a devastating financial and emotional impact on the families we care for. Organizations like Smilezone are shining examples of community organizers helping local people. We are so grateful for their support, and more importantly, for helping to put a smile on the faces of our young patients."
- Irene Harder, Program Director at Grand River Hospital
The POGO Satellite Center treats approximately 650 young cancer patients a year. The clinic offers a variety of services including maintenance chemotherapy, transfusions, medication administration and consultation. POGO Satellite Program works in partnership with the Grand River Hospital to provide aspects of a child's cancer care in their own community.
Sign Up for our Newsletter