Grandview Children's Centre – Whitby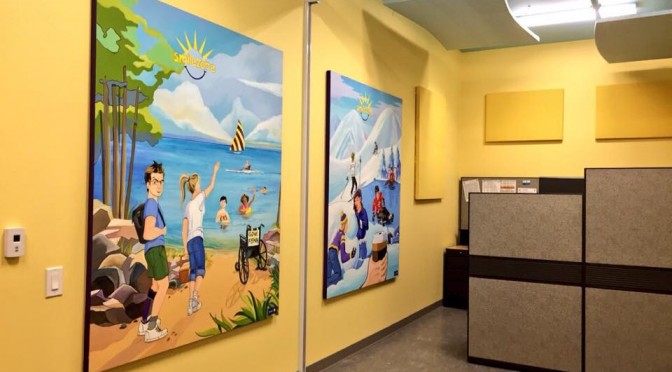 On Friday August 21st, 2015, our Foundation was able to transform our EIGHTEENTH SMILEZONE in the Adolescent Program Room at Grandview Children's Centre in Whitby, ON.
This installation included:
Bright, inspiring youth-focused murals to enhance the room and provide a distraction from treatment
Fun new paint colours
New custom cabinetry to best serve the needs of the Occupational Therapists
iPad Air 2 for entertainment and engagement purposes
The Foundation was humbled to receive support for this installation from National Hockey League player James Neal, Whitby native and left winger / alternate captain for the Nashville Predators.
Additionally, the Minister of Children & Youth Services, Minister Tracy MacCharles, had the following to say about the Smilezone installation:
"Our physical environments can have a great effect on all of us. It can lift our spirits and inspire us. The renovation and transformation of the Adolescent Program treatment room will undoubtedly make working and learning in the newly renovated space an even more positive experience — with its new and more cheerful look — thanks to the Smilezone Foundation.
I want to thank you all for your selfless commitment and dedication to giving young people the opportunity to grow and learn in a healthy, supportive, positive environment. Working together, I am confident that we can, and will continue to, make a difference in the lives of children with special needs." 
Grandview Children's Centre is an independently operated not-for-profit organization serving 5,000 children and youth with special needs and their families in Durham Region. Grandview is the only children's treatment centre in the region with a team of paediatric experts providing specialized programs, outpatient clinical treatment and rehabilitation services. Grandview is proud to partner with the Smilezone Foundation to enhance the treatment space for Grandview Kids and their families in our Adolescent Program at the Abilities Centre.
Sign Up for our Newsletter