Seasons Centre for Grieving Children – Barrie, ON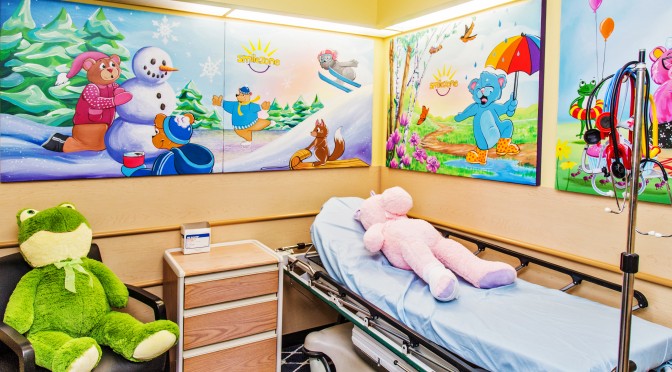 Over January 25th-27th, the Smilezone team transformed 3 NEW SMILEZONES at Seasons Centre for Grieving Children in Barrie, ON! The new Smilezones at Seasons are located in the following locations:
Arts & Craft Room
Medical Play Room
Hallway
Specific features in the Smilezone transformation include:
Bright, kid-friendly murals
Autographed hockey jerseys from the Barrie Colts
Fresh Paint provided by Sherwin Williams
Dry-Erase paint on the walls in arts & crafts room
Therapeutic Rice Table and toys for children to play
Pot lights in the craft room to increase lighting
Arts and crafts table and benches
Sink area for arts and crafts
Medical Play toys
Waiting room chair in medical play room
Custom storage
and more!
Marcy Baldry, Development Director at Seasons Centre says that this will be a space "where children ages 5-12 years old can work through their grief feelings.  One of the goals of our peer support groups is to provide participants with the necessary tools to promote grieving in healthy ways, promoting emotional well-being thus building resiliency.  With this generous support these renovated spaces are where they can do just that."
A very special thank you to Wawanesa Insurance and the Barrie Colts for generously supporting this installation at Seasons Centre for Grieving Children!
"On behalf of the Barrie Colts and the Barrie Community Foundation we are thrilled to have helped these worthy projects", said Howie Campbell, President of the Barrie Colts.  "The funds from the 50/50 draws at Barrie Colts games are donated to projects and organizations like Smilezone, Youth Haven, Seasons Centre and many other worthy organizations in our community. With the help of the Barrie Community Foundation, we were able to establish the Barrie Colts Community Fund and with the generous support of our fans who purchase 50/50 tickets each game, it allows projects like this to exist", he added.
"Wawanesa is proud to support the Smilezone Foundation's work to create warm and welcoming spaces that help kids and families when they need it the most," said Josie Porto, Wawanesa's Regional Vice President, Ontario. "Helping to make our communities brighter, healthier, more vibrant places to live is core to our company's values."
Media Links:
https://www.barrietoday.com/local-news/smilezone-team-sinks-its-teeth-into-renovations-at-seasons-centre-1229681 
About Seasons Centre for Grieving Children:
Seasons Centre for Grieving Children is a charitable organization serving Simcoe County. We opened our doors in 1995 and have been serving our community with their grief and bereavement since. We offer a variety of no cost peer support groups for children, teens, young adults and their caregivers grieving the death, or life-threatening illness of an immediate family member. Participants are supported through the grief process by trained volunteer grief facilitators and program staff in a safe, non-judgemental, home like atmosphere. www.grievingchildren.com 
Sign Up for our Newsletter