Safehaven Project for Community Living – Toronto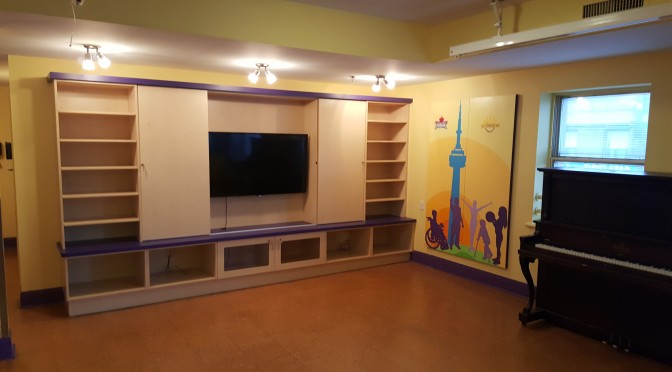 The Smilezone team was hard at work transforming FOUR SMILEZONES at The Safehaven Project for Community Living in Toronto, ON over the week of February 27-March 1, 2017.
These special new Zones are located throughout the residence, including the main living area, the waiting area, the hallway and the teen lounge.
These newly transformed Zones include many special features:
Brightly-coloured, fresh paint throughout the Zones
Fun, kid-friendly murals featuring Toronto landscapes, lacrosse, and unique ceiling art
Fully accessible dining room table for community meals
Signed Toronto Rock Jersey Boxes
Custom entertainment unit featuring a new TV
Customized sensory corner for kids and youth of all abilities
iPad stations in the Teen Lounge
These incredible Zones were brought to life thanks to the generous support of the Toronto Rock. In 2016, the Toronto Rock donated over $86,000 to Smilezone Foundation, critical funds raised through the 50/50 ticket program at the Toronto Rock Charity Game on April 9th, 2016. In 2017, the Toronto Rock have continued their strong support, continuing the full season 50/50 ticket program and hosting a second Charity Game Night in support of Smilezone Foundation on March 3rd. Thank you to the Toronto Rock team, coaches, staff, and fans for supporting the Smilezone mission and belief that every child deserves to SMILE!
Safehaven's mission is to provide children and youth with multiple disabilities and complex medical needs residential or respite care in a family environment with a caring community. Since 1990, Safehaven creates a 'home away from home' experience for medically fragile children to ensure that they have the best opportunities for personal growth and development to the full extent of their capabilities.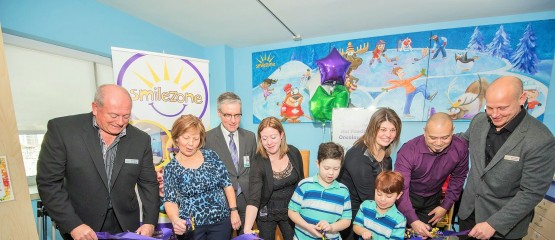 Smilezone Foundation is excited to announce the creation of FOUR SMILEZONES in the Paediatric Oncology clinic at Scarborough's Rouge… Read More
View All