Scarborough and Rouge Hospital – Toronto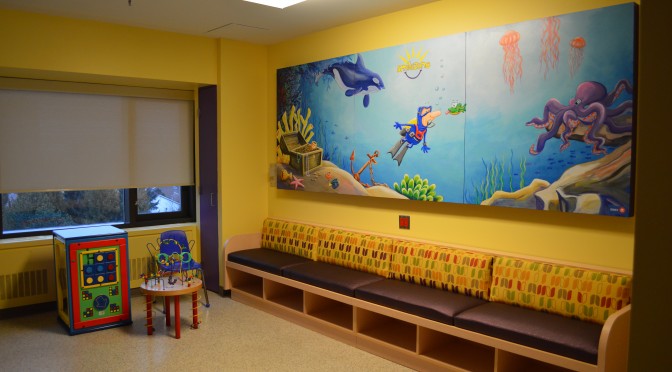 The Smilezone team got off to a quick start adding SEVEN SMILEZONES at The Scarborough and Rouge Hospital in both their General and Birchmount campuses. The seven new Zones brighten and transformed four separate waiting areas a playroom and an assessment room.
This installation featured beautifully transformed spaces for kids, including:
Brightly-coloured, fresh paint throughout the Zones
Custom cabinetry and banquette seating
A variety of different tactile panels and sensory tables
An iPad station
Newly installed TVs
A new Gesture Tek and activity unit
In all of the murals displayed throughout the Scarborough installation are Bank of Montreal logos, which is of particular importance to Smilezone. This installation marks a very important landmark for Smilezone Foundation as they continue to further their mission and expand throughout Ontario. Bank of Montreal is Smilezone's largest corporate donor, and thus this Scarborough installation has been dedicated to recognizing BMO's outstanding contribution.
At Scarborough and Rouge Hospital (SRH), a quality patient experience comes first. Affiliated with the University of Toronto, SRH consists of three hospital sites (Birchmount, General, and Centenary) and five satellite sites in Scarborough. SRH delivers a broad spectrum of health services to one of the most diverse communities in Canada, including a full-service Emergency Department at each site, advanced maternal and neonatal care in state-of-the-art birthing centres, and specialized paediatric services. SRH is home to a number of regional programs serving the central east Greater Toronto Area (GTA) and beyond, including nephrology, cardiac care, vascular surgery, and vision care, and is recognized as a centre of excellence in orthopaedic surgery, cancer care, and mental health.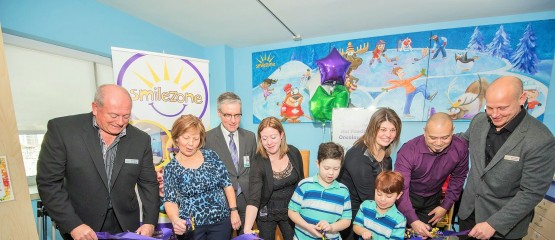 Smilezone Foundation is excited to announce the creation of FOUR SMILEZONES in the Paediatric Oncology clinic at Scarborough's Rouge… Read More
View All