Wordplay Jeux de mots – Sudbury, ON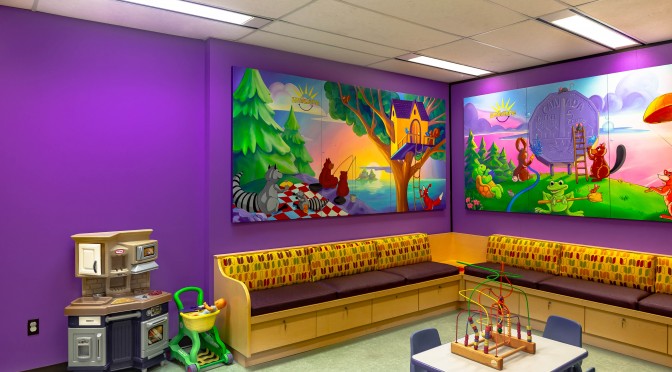 Over November 9-11th, 2018, the Smilezone team transformed 3 NEW SMILEZONES at North Bay Regional Health Centre's Wordplay Jeux de mots program in Sudbury, ON! The new Smilezones can be found in the following program spaces:
Main Waiting Room
Group Program Room
Infant Hearing Screening Room
Specific features in the Smilezone transformation include:
Fresh Paint
Bright & Fun Murals
Children's Sensory Table & chairs
Bench Seating
Custom Storage
Rocking Chair
Wordplay Jeux de mots Preschool Speech and Language Service provides a full range of accessible speech/language services to preschool children from birth to the time they start school in Sudbury. Family-centered intervention services includes assessments, consultations, parent training, home programs, individual and group programming. Wordplay Jeux de mots also provides transition services for those children transitioning to Junior Kindergarten. Over  1,700 children, infants & family members will benefit from the new Smilezones at Wordplay Jeux de mots in 2019!
Sign Up for our Newsletter