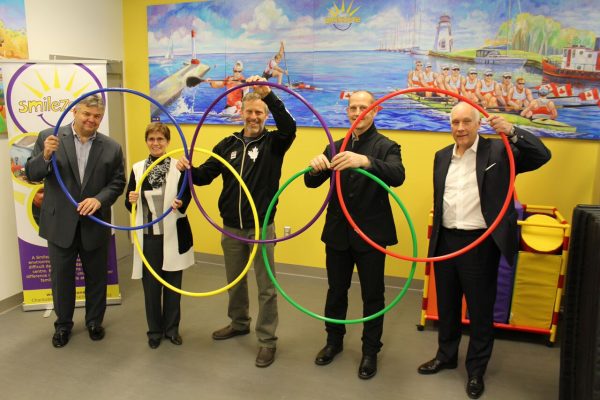 The Smilezone Foundation is proud to announce that ELEVEN SMILEZONES were installed at the new Oakville Trafalgar Memorial Hospital in late November, 2015. This amazing project saw Smilezones installed in the Emergency department, in Maternal Child, in the Mental Health department, in a Pre-Op Surgery room, and in the Quiet Room in the CTC. These fun and lively Smilezones will be a part of the new hospital from the day it opens, ensuring that every child at Oakville Trafalgar Memorial Hospital has a smile on their face!
To celebrate, Canadian Olympic Gold Medalist rowers Larry Cain and Adam van Koeverden attended the ribbon-cutting ceremony along with the CEO of the Oakville Hospital Foundation, Tina Triano. This grand opening event started a new chapter for health care in Oakville, bringing not only state-of-the-art facilities to the 180,000+ people in the area, but also a place where kids can be kids, no matter what hardships they're facing!
A huge THANK YOU to everyone who made the Ribbon-Cutting Ceremony for these amazing Smilezones a success: Larry, Adam, Tina, the staff at Oakville Trafalgar Memorial Hospital, the Oakville Community, and everyone else involved in making this a gold medal project!
Please e-mail info@smilezone.com for direct links and information about this event.