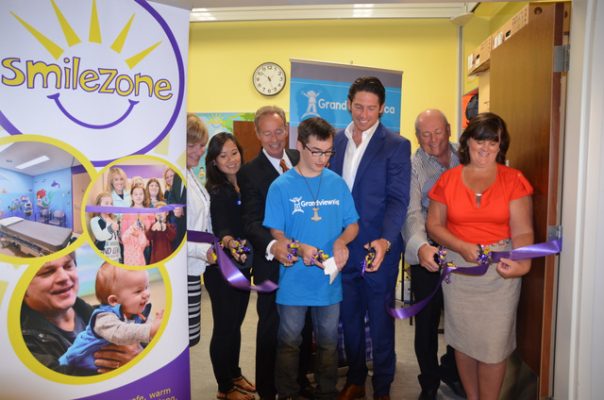 On August 25th 2015, the Smilezone Foundation was able to celebrate the success of the new installation at Grandview Children's Centre with kids, staff, community members, and Nashville Predators James Neal at the Grand Opening event held at the Whitby Abilities Centre.
James Neal is a National Hockey League player,  Whitby native, and left winger / alternate captain for the Nashville Predators.
"I'm honoured to support a charity that prides itself on creating safe, fun and interactive zones for children and their families going through difficult times. Every child deserves a reason to smile, and to be a part of helping a child or family create a lasting moment, memory or smile when they need it the most is invaluable." said Neal
James was also joined at this event by his number 1 fan, Sam Keane, a 16-year old Oshawa resident and hockey super-fan. Actively involved in sports in his community, both as a participant, and as a proud volunteer for the Oshawa Generals hockey club, Sam has a positive attitude and outlook on life, but believes his CP holds him back from being a hockey superstar.
For the past five years, Sam has been receiving expert paediatric rehabilitation, treatment and other services from Grandview, serving over 5,000 children and youth with special needs and their families each year in Durham Region at seven sites located throughout the region. Constrained for space at its main location in Oshawa, Grandview recently moved its Adolescent Program to the Abilities Centre in Whitby, and that's when James Neal and the Smilezone Foundation became involved.
In late August, Sam will travel to Toronto for major surgery on his muscles and bones with the hope of improving his ability to walk. Afterward, he will receive months of physiotherapy, occupational therapy and social work services from the team at Grandview to help him recover physically and emotionally from surgery to maximize its benefits.
"Grandview is like a family to me," Sam says, "I'm going to enjoy coming here even more now that Smilezone has made the treatment space so cool."
A huge thank you to James Neal, representatives from the Ontario Association of Children's Rehabilitation Services (OACRS), Regional Councillor Lorne Coe, and Grandview's incredible team for their attendance and support of this Smilezone!
Smilezone Media