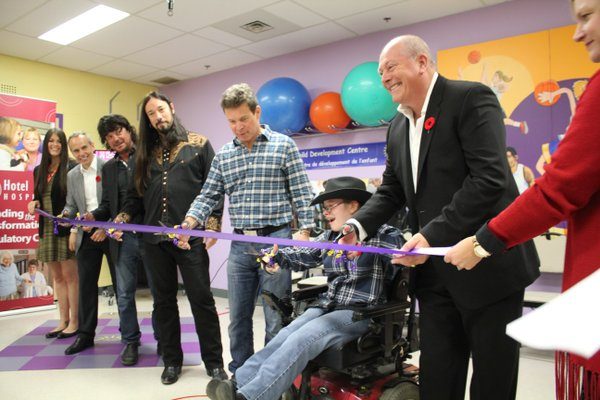 The Smilezone Foundation celebrated the Grand Opening of THREE BEAUTIFUL SMILEZONES at Hotel Dieu Hospital in Kingston on Thursday November 5th, 2015. To share in this joyous occasion, staff, friends, and the community all came together along with our honoured guests Rob Baker, Gord Sinclair, and Paul Langlois of The Tragically Hip to celebrate the transformation of the Child Outpatient Centre, the Children's Development Centre OACRS gymnasium, and the Ears, Nose, and Throat play area.
The Tragically Hip are Canadian rock legends and Kingston natives, and they lent not only their name to this exciting project, but also became the inspiration for murals in the Child Outpatient Centre. Rob Baker, the lead guitarist of The Tragically Hip, had the following to say about the Smilezone project:
"How honoured we are to be involved in any way with this project. It's something we really believe in, and further, it's a privilege to be able to give back in some way. I think we all think that smiles are the best interaction – every social interaction is improved by a smile or an exchange of smiles. If we can contribute to that in any way, we're thrilled and privileged."
This amazing Grand Opening event was made possible by the support from The Tragically Hip, the staff at Hotel Dieu Hospital, the Ontario Association of Children's Rehabilitation Services, and, most especially, the funny and heartfelt words of Janessa Gerhardt, a patient at the Child Development Centre, who shared not only her story but also some comedic poetry.
Thank you to everyone for celebrating with us, and check out some of the event pictures and videos below!
Please e-mail info@smilezone.com for direct links and media releases from the event.