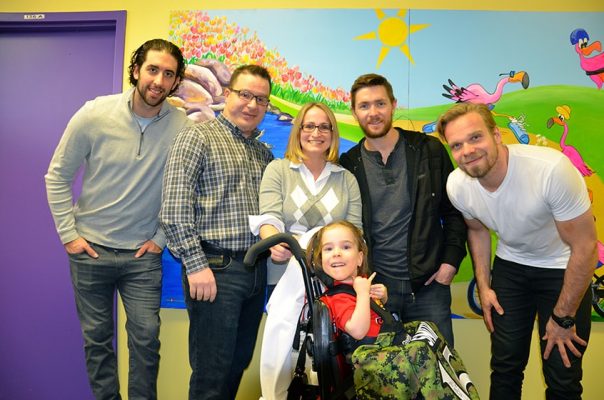 On Monday March 9th our Foundation celebrated our Sixth Smilezone installation at the Grand Opening event at Ottawa Children's Treatment Centre (OCTC). Half of our Board was able to attend this event, with OCTC employees, Board Members, clients and families all celebrating this new renovation. Additionally, we were humbled to have Bryan Murray of the Ottawa Senators attend and give a speech at the Smilezone Grand Opening, as this new installation was dedicated in his honour.
To help us celebrate this joyous occasion and show support for Bryan Murray, we were joined by the vast majority of the Ottawa Senators team at this event, including: Colin Greening, Curtis Lazar, Jean-Gabriel Pageau, Jared Cowen, Marc Methot, and even Daniel Alfredsson to name a few!
It was absolutely an event to remember with children and families touring the new Smilezone and being overjoyed to meet some of their favourite athletes. It was an incredible community event that had everyone leaving with a smile 🙂
Special thank you to Jennifer Inkwell from the Ontario Association of Children's Rehabilitative Services for attending, as well as Bryan Murray and the entire Ottawa Senators team for your support.
The Grand Opening event received media attention from local media outlets, including: Sportsnet, TSN-Sportscentre, CTV News Ottawa, Sens TV, CBC Ottawa, Rogers TV, the Ottawa Sun, Metroland Media, 580 News Talk Radio and the Ottawa Community News.
Please email info@smilezone.com for direct links and media releases.