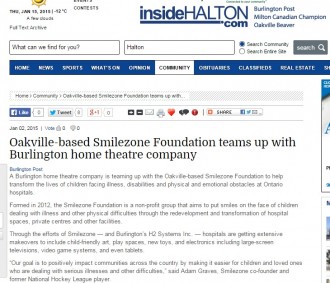 Clinton Howell, founder and President of H2 Systems Inc., has been a long standing partner and friend of our Foundation since our third installation at Grand River Hospital. Through our Foundation's partnership with H2 Systems Inc. – along with our other generous partners and supporters- we are able to bring smiles to kid's facing illness, disability or physical and emotional obstacles.
Our Foundation's co-founder, Scott Bachly, expressed that:
"Our foundation's experience working with H2 Systems Inc. has truly been a pleasure."
"It is clear their community contributions mirror their values in business, as they've contributed to the success of our two most recent Smilezone installations."
H2 Systems Inc. recently contributed to the success of our most recent build at Northeast Cancer Centre in Sudbury, ON. The renovation of the Pediatric Oncology Unit, with the help of H2 Systems Inc., is now equipped with flat screen TV's, iPad's and other entertainment to help ease the fear and discomfort children can experience when hospitalized.
"Giving back to others and the community is something we deeply believe in," said Clinton Howell
"Smilezone is an amazing cause on many levels and our efforts in working together means children undergoing cancer treatment have access to state-of-the-art fun zones which they all deserve. Many of us at H2 Systems Inc. have children and a charity like this touches all of our hearts in so many ways."
Clinton and his company were also generous enough to support our Foundation's Second Annual Celebrity Golf Tournament in July of 2014.