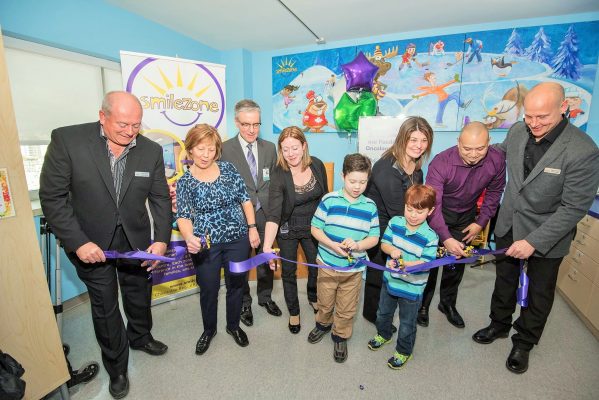 Smilezone Foundation is excited to announce the creation of FOUR SMILEZONES in the Paediatric Oncology clinic at Scarborough's Rouge Valley Centenary Hospital mid-January, 2016. This magical transformation included turning the hallway, playroom and two treatment rooms into exciting and vibrant places for kids to play. The playroom was transformed into a 'Hockey Night in Canada' Zone, with showcased jerseys, hockey-themed murals, and even a bubble hockey game for children, friends and family to enjoy!
These Zones were made with a little extra help – Gina Narvaez and her 8-year-old son Gabriel, who was diagnosed with acute lymphoblastic leukemia at age 6, gave input into the Smilezone designs! Gina had this to say about the Smilezones at Rouge Valley:
"For Gabe, this kind of play area can be somewhere to go and be comfortable, and just be a kid. He will look forward to going to the playroom and the treatment is just a side note, instead of the main focus. He's a kid and when he can still do kid stuff, then cancer won't take over his life. It makes him feel like he's not in a hospital, and this is so important in the healing and hoping process."
For the Grand Opening event at Rouge Valley, the Hockey Day in Canada crew came to celebrate and film a feature segment that Sportsnet aired nationally on February 6th! The video, which you can find HERE, really captures the heart and spirit of what a Smilezone is.
Jerseys and jackets from Nick Kypreos, Glenn Healy, Ron MacLean, and Don Cherry are featured in the new Zone. We are honoured and privileged to call these gentlemen supporters and friends of the Foundation – THANK YOU!
Another huge THANK YOU to the incredible RVHS Foundation and Judith Barker, Graeme McKay and the RVHS Board of Directors, Dr. Mark Greenberg and POGO, Kirsty Morelli and the Rouge Valley staff and clinicians, the families at Rouge Valley, as well as Hockey Day in Canada, for their support and friendship!
Please e-mail info@smilezone.com for direct links and information about this event.