Read on to learn about the magic of our Smilezone Murals! 
Just like Smilezones, no two murals are the same. In consultation with the facility staff, our artists create location specific scenes of inclusivity, wonder, and adventure. The murals often depict characters of all abilities and backgrounds – embracing wheelchairs, braces, walkers and other medical equipment – and combine familiar favourite stories with relatable characters.
Comfort and security is important to Smilezone; we love to include sequences showing life skills and treatment procedures in the artwork so that every child can feel a little less scared and understand the processes of their journey.
Aside from the visual benefits of the murals, often therapeutic goals are incorporated into the art work. Painted basketballs on the wall can encourage children to set personal goals – to reach a new basketball over time – hidden images within the murals promote focused play and fun height tracking encourages children to work towards standing strong in therapy.
Smilezone murals serve as a source of empowerment and inspiration to the children in the spaces. Our artists make sure each mural re-enforces the message that there are no boundaries to what the kids can accomplish.
 Meet the Smilezone Artists!
Linda Holmes
Favourite mural: The Waterfall Mural at Pathstone Mental Health Centre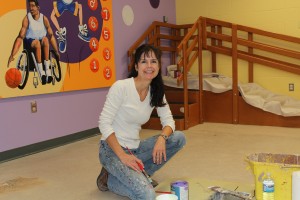 Linda was Smilezone's very first artist. She joined the team in 2012 and even designed the Smilezone logo! Linda currently teaches Drawing at Sheridan College and owns her own business – Design Illusions. With over 20 years as a professional artist, Linda's murals are influenced by Graham Rust, prefering oil paint for its depth, richness, colour range and blending ability. This is what Linda said about her experiences with Smilezone:
"When I attend a grand opening of a Smilezone installation I have tears from the children's reactions and the facility/parent's appreciation. That is all it takes to believe in the Smilezone mission.  Having murals adds colour and brightens the space. Murals can tell a story, transport you to another place, make you laugh. Murals can inspire."
Hailie Phillips
Favourite mural: Fairy and Gnome Mural at Kingston General Hospital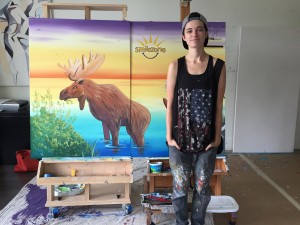 Hailie joined the Smilezone team in the summer of 2015 as an Illistration student at Sheridan College. Finding her inspiration from character designer Randy Bishop, Hailie's murals mimic cartoon and fantasy! Here is what she had to say about the magic of art in Smilezones:
"I think the murals are really the most significant change within the Smilezone makeovers. A Hospital can be a scary place especially for children and I believe the murals can transport them to another place of fantasy and wonder. In this fantasy place their problems no longer exist. Anything to make their experience a little nicer is well worth it!"
Jacob Pacaud
Favourite mural: Sunken Ship and Fish Mural at Parry Sound Community Hub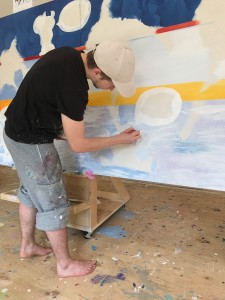 Siezing an opporutnity to both grow as an artist and to create a welcoming and comfortable environment for children in a time of need, Jacob joined Smilezone in 2016. As a Visual and Creative Arts student, Jacob draws his inspiration from his environment; continuiously looking to use his talents to help others. Here is what Jacob said about working with Smilezone:
"I believe in the Smilezone Foundation because they make the dream of helping people into a reality. The compassion and drive in the company is very powerful and continues to grow."
Happy National Art and Health Month!