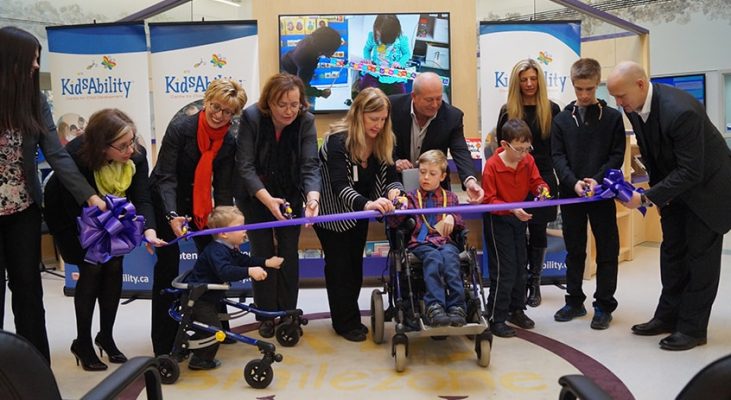 Our Foundation was thrilled by the success of our recent Grand Opening at KidsAbility Centre for Child Development in Waterloo, ON.  The Opening took place on Thursday February 12, 2015, and attendees included Smilezone Board Members, KidsAbility staff, clients and families and an abundance of local politicians.
One of the highlights from this event was that The Minister of Children's and Youth Services, Minister Tracy MacCharles was able to attend, also presenting KidsAbility with a plentiful donation. This funding will help provide children with special needs improved access to rehabilitative services across sites in Waterloo Region and Guelph-Wellington. It was an absolute pleasure meeting with Minister MacCharles, who shared warm remarks about our Foundation within her speech and her intent on working with our charity in upcoming projects.
Other political representatives who attended the Grand Opening included: Catherine Fife, MPP for Kitchener-Waterloo, Michael Harris, MPP for Kitchener-Conestoga, Ted Arnott, MPP for Wellington-Halton Hills, Daiene Vernile, MPP for Kitchener Centre, Kathryn McGarry, MPP for Campbridge, and Hon. Liz Sandals, MPP for Guelph.
The overwhelming sense of community, diversity and inclusion during this Grand Opening event was incredible. Derirdre Large, a parent of a child who gets services from KidsAbility shared her and her son Graydon's history with the centre and their appreciation for this new Zone. We were thrilled with all the families and children that were able to attend this special day.
Thank you to everyone for your support! 🙂
Please email info@smilezone.com for direct links and media releases from the event.